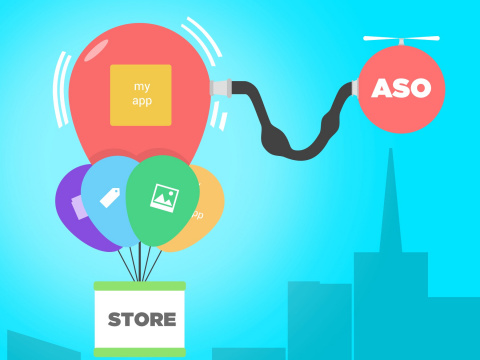 What is ASO?
ASO (App Store Optimization) - multiple actions which are aimed to optimize a mobile app in App Store, Google Play.
The optimization specialist's main task is to ensure that the concrete app is displayed at the top of the search bar of the store (Apple or Google).
However, everything is not as simple as it might seem at first sight. Optimization includes knowledge of tools, store ranking factors, and the general operation mechanism of these stores.
Appstore and Google Play: ranking factors
There are, in fact, many factors that affect the ranking in App Store and Google Play.
Among them there are the most basic:
Results for keywords that match;
The total number of downloads;
App quality indicators (these indicators are different for these two stores);
Number + intensity of downloads for a specific search request.
How to pick up relevant keywords? What tools will be helpful?
The fundamental of App Store Optimization is the development of a semantic core. With the help of this kernel, you can make the correct description, headline, pick up keywords, determine the necessary words and phrases for screenshots. And, in turn, all these tools help bring high-quality search traffic.
Tools that help in creating the semantic core:
Google Keywords and Wordstat;
Apptweak, Sensotower, Asodesk, Searchman.
Additionally, you can use tooltips for keywords for search queries in the store. Such extra helpful tools will help determine the most relevant and popular keywords for users.
Nevertheless, you always can resort to a paid service for analyzing the target audience and develop an app based on marketing research that will show which words are most often entered in the search bar of this target audience.
Title: Keyword Selection
Another advice on "how to properly promote the app in the search" is a well-written title. The App Store has a limit of 50 characters (+ there is a line for entering keywords, which fits no more than 100 characters), and on Google Play you are welcome to use 30 characters.
Before you arrange all the keywords, you need to be aware of some crucial factors.
ASO features in the App Store:
Punctuation marks are recognized as spaces.
Russian grammar does not make sense. For example, plural and case have no meaning.
In the title itself, you need to put the correct word order, but in keywords, it can be random. 
Articles in English (a the) are usually ignored and they have a reduced weight.
Also the words "game", "free", "app" have a reduced weight.
The title may be cut (depending on the app location).
Numbers, conjunctions, and prepositions are also considered as separate words.
ASO features in Google Play:
The description and titles of the app are quite heavy in the ranking.
Keywords will include Russian grammar, prepositions, numbers, cases, conjunctions.
Google play does not have a separate additional field for entering keywords.
App screenshots
Pay attention to creating the correct screenshot of the app. Since they are displayed in the search for stores, in these "windows" you need to show the main functionality of your application, make sure that the font is not too small.
Also, it will not be amiss to spend time choosing an appropriate color. It is needed to make sure that the text is not merged with the background or insufficiently high-quality textures of the substrate itself.
Create catchy icons
When an icon is created, it should be catchy and memorable. Therefore, originality and uniqueness are what will additionally help bring the app to the top.
Remember the main things:
Simplicity is your partner. The icon will look undistinguished if you are using obscure details and if there is the overabundance of elements.
Graphics - this is your icon. Do not try to put words into the icon.
Pastel tones are perceived better, while acidic and overly variegated ones are more likely to alienate a potential user.
Icon creation should become a process where you can express enthusiasm, creativity and come up with something of your own, rather than plagiarize from existing successful apps. Of course, no one forbids to grasp inspiration. For example, visit Pinterest or Apply Pixels.
A/B testing
Google Play has a very convenient, already built-in tool for checking app performance. It is called the Developer Console.
Traffic is needed for successful testing. If you have attracted organic traffic during the advertising campaign, it will be even better to cope with checking two or more graphic options at once.
App Store does not have such a built-in function. Therefore, for testing, you can use other tools. Such as Optimizely, Apptimize, Mixpanel.
Conclusion
As you can see, ASO is not such a simple optimization process. Behind this abbreviation hides the work of many departments. Such search promotion should be trusted to specialists who understand the basic tools and the mechanism of the store work.
Of course, you can try to do everything by yourself. At least try. Why not?
However, here's a couple of tips on what you SHOULD NOT do:
Use purchased reviews (you may be banned).
Use other people's titles and graphics.
Purchase the paid installations (it will also lead to a ban).
Nevertheless, in general, go for it and be creative, but stay within the instructions :)