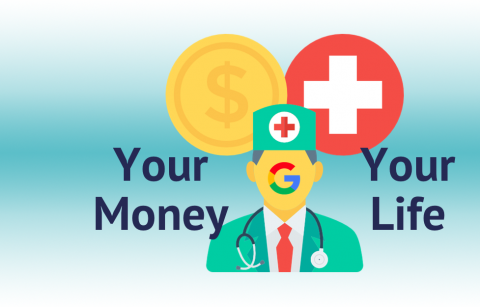 YMYL — Your Money or Your Life
By the term YMYL, Google meant pages on the Internet that can affect the financial status or even life. However, the word "Money" means not only money. Google refers to YMYL pages of sites or blogs that can affect the visitor's finances, health, and happiness.
If you write articles on the blog with tips for parents of toddlers, this will be regarded as the YMYL page.
If you write about diagnosing diseases by symptoms, then it also will refer to YMYL.
Here's how Google defines these pages:
Online stores or sites where financial transactions are conducted. These are pages on which visitors can make purchases, exchange money, pay bills, etc.
Pages with financial information. Pages that have tips or information about investing, taxes, about buying a house, about paying for studies at secondary and higher educational institutions, about buying the insurance and the like.
Pages containing medical information. Pages that possess information about health, medicines, mental health, and healthy eating.
Pages containing legal information. These are data about the adoption of children, on the adoption of citizenship, on filing lawsuits.
Information articles, as well as official or public pages that have influential information to inform people about local, regional, federal authorities, the police, the prosecutor's office, and the court. To YMYL pages also refer laws and disaster alert services. Besides, there could be added news publications: about politics, science, business.
Other important pages which contain essential information that may affect the financial well-being and health of people.
To all such pages, Google is paying more attention. Since inaccuracies in such pages can lead to dire consequences for people. It could be a loss of money, loss of physical and mental health and even death.
To evaluate the quality of YMYL pages, Google uses the concept of  E-A-T.
E-A-T is an abbreviation for three rules.
E - Expertise. Is the author an expert in the selected field?
A - Authority. Is the author authoritative in the selected field?
T - Trustworthiness. Is the article credible?
If you try to increase the credibility of the site itself (for example, due to incoming links) but do not pay enough attention to these three rules, then Google may mark your site as low-quality and your site will go out of the top.
Therefore, you must understand and use these three rules so that your page is rated higher.